batching and mixing system
Paddle mixer, ribbon mixer and feed mixer are our main feed machinery products. The chain driving and rigidity and design ensure long time operation without trouble. Feed mixer is widely used in compound feed plant, premix feed plant, feed machinery, additives, food and flour plants, etc with the advantages of gentle mixing, no deviation, high mixing homogeneity, beautiful shape, low noise, no dust and environmental protection.
Feed mixer workshop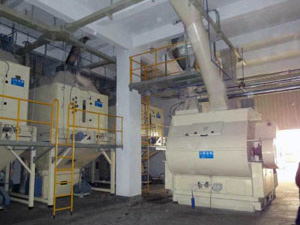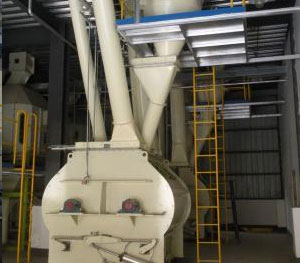 Batching is the process in feed production normally happening between the grinding of ingredients and the mixing of the feed. This system comprises of storage bins over the mixer, process automation achieved by sensors to fill bins to required levels, and a scaling system for the accurate weighing of batches/doses of feed.
Automation is achieved through the implementation of an automatic batching system, also available in smaller form as a micro ingredients batching system.

An automatic batching system differs as it requires a great deal more space. Normally 8-12 bins are positioned over the mixer, in which the different ingredients used in the feed are kept in each. Through the use of process automation and feed formulation software, the measuring (dosing/batching) of each ingredients are control from the control room via a computer.
The automation of this system improves productivity and increases both precision and output. With the system automated the next batch is prepared as the prior batch is being mixed in the mixer.
Advantages of a automated batching feed mill are obviously in the reduced need for labour, higher productivity and higher accuracy in measurements. On the other side the size and expensive of a automated batching system may be out of reach of some feed producers.

Batching line workshop