hydraulic briquette machine
Our new model hydraulic briquette machine enjoys a lot of advantages. The most obvious advantages are as follows: security, stability, easy operation, visible pressing process, and higher output rate, etc.
This hydraulic briquette machine makes biomass briquettes under high pressure in its cylinder. The raw materials for briquettes include a series of biomass materials, such as: sawdust, wood shavings, wood chips, straw, tree branches, peanut shells, rice husks, and alfalfa, etc.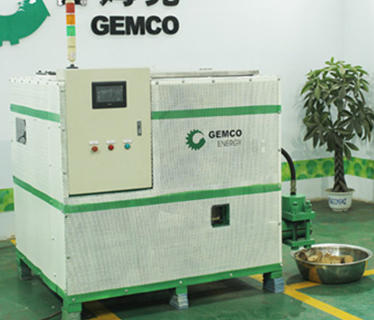 | | | | | | |
| --- | --- | --- | --- | --- | --- |
| Model | Weight | Production Capacity | Power | Briquette Diameter | Surge Bin Volume |
| GMC-YKY012 | 1000kg | 120kg/h | 7.5kw | 70mm | 0.45m³ |

To press briquettes with this hydrahlic briquette machine, the raw materials for making briquettes need to be pulverized into powders. These powders should contain proper moisture content, usually
12%
. Then put these well-prepared powders into the feeder of the hydraulic briquette press, and they will fall into the mixing bin. And these powders will be conveyed through a screw conveyor to the briquetting chamber, where they are pressed into briquettes in sequence.
The finished biomass briquettes, with the forming density of 0.7-1kg/dm³, will be pushed out along the slideway.