biomass pellet mill
From Waste to Wealth
A provider of complete solutions for biomass pelleting technology!
Pelletizing is the process of making waste materials into solid fuel. The objects are used for burning purposes. Wood Pellet is one of the most commonly used pelletizing materials.
Raw Material should be suitable water; Sand and stones should be removed
| | | | |
| --- | --- | --- | --- |
| Corn Stalk | Bagasse | Miscanthus | Oil Palm Shell |
| Saw Dust | Wood Waste | Poloshing Powder | Refuse Derived Fuel |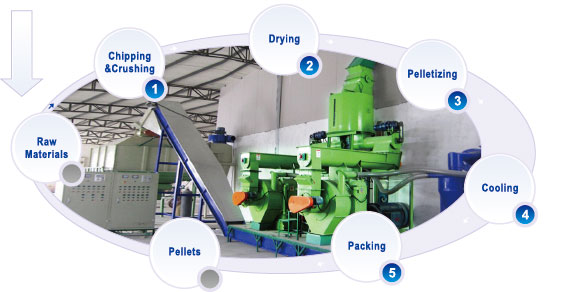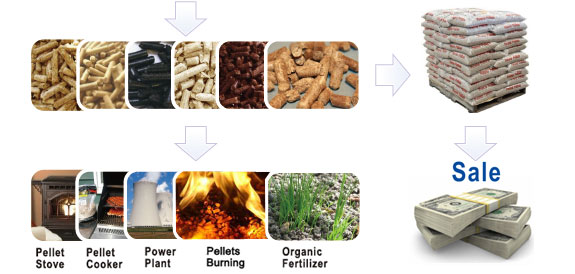 How to make Waste get more pellet profits?
When clients are busy making biomass pellets to make money, do you think which kind of raw materials can get more pellet profits? Now our technician will provide some advices for you in making pellets. Real biomass pellet energy will be renewable plants of forestry and agriculture, which will be broken, processed and formed the pellets finally in order to transport, improve combustion efficiency and reduce air pollution. The raw materials has certain calorific value with renewable, environmental protection(lowest sulfur, chloride content), carbon dioxide emissions cycle for zero. In practical application, we can investigate waste of forestry, agriculture and industry such as sawdust, maize straw, rice husk, wheat straw, wood log, plastic, sludge and cloth etc. As long as the material is waste or garbage with certain calorific value which produce some profits in sales, we all can collect and treat processing into pellets for commercial operation.
In recent years, garbage has become major pollution problem in city. We not collect garbage, screen after drying and add additives to improve calorific value during pellets processing in order to reduce harmful material in the combustion process. Therefore we can achieve multi-win situation enterprise, government, city and environment.
Different raw materials has different characteristic, so the pellets characteristics are different. Before we prepare for our pellets factory, we must understand pellets' calorific value, size, ash content and sulfur, chloride, nitrogen content. Finally, we need to analyze if target market demand, market price and if pellets achieve profit effect. If clients have more puzzled problems in making pellets, you can phone us or send e-mail.