peanut cleaning equipment
Peanut Destoner Processing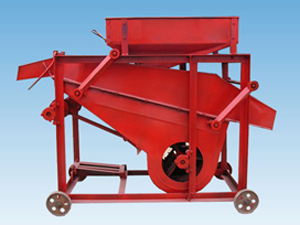 Peanut destoner machine is one kind of the peanut cleaning machine/equipment. With the introduction of fish scale type sieve and elastic rubber cover, this peanut destoner machine has stable operation, low vibration, low noise and good removing effect and no environmental pollution. This peanut in shell destoner machine is used for food processing, to remove foreign materials which have a bigger gravity than the food from peanut, wheat, soybean, rice, sunflower seed and sesame.
Seeds always need to be pretreated in order to get rid of impurities before sent to the pressing workshop. Seed cleaning equipment, however are very helpful to clean the seed. Below are some of the applied widely equipments.
Destoner is another popular seed cleaning equipment. KMEC's destoner is highly efficient and multi-functional. With a combination of vibrating, sifting and flowing air currents, stones are removed from the feedstock stream. Its two-layered screen design efficiently separates heavy from light impurities. It greatly simplifies cleaning procedures. The machines feature double vibrators, balanced running, an an optimized design.
1,Capacity: 400-600kg/1Hour
2,Power: 1.5Kw
3,Dimension: 1000*800*1000 (mm)
Multifuntional Peanut Cleaner Machine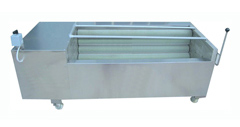 The multifunctional peanut cleaner machine is composed of moving device, drive device, brush roller and washing box. The multifunctional peanut cleaner is not only exclusive to clean peanuts, but potato, turnip, gastrodin, Chinese yam and carrots. It plays an important role in peanut cleaner machine or groundnut cleaning machine.
1, Capacity: 1000kg-2000kg/h
2,Power: 3-4KW
3,Voltage 380V, 50HZ, Three phases
4,Dimension: 230*900*1000mm

TQLZ Vibrating Sieve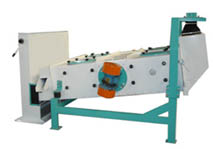 The TQLZ Vibrating Separator is a new peanuts cleaning equipment that made by advanced technology. It is a common piece of machinery used at an peanuts processing line. It is used to cleaning the material in flour mills, rice plant feed works, food plants, oil plants and chemical plants. Its advantages include an advanced design, high capacity, a compact frame, convenient adjustment and maintenance, low noise, and limited pollution.

Model
Capacity(t/h)
Speed of the Motor
Power
(kw)
Weight
(kg)
Packing volume
(mm)
P-C
C
TQLZ63×100
10
5
920
2×0.25
360
1640×1285×1095
TQLZ100×100
15
8
920
2×0.25
420
1640×1610×1455
TQLZ100×150
25
12
920
2×0.37
520
1640×1610×1455
TQLZ100×200
35
16
920
2×0.37
540
1640×1610×1455
TQLZ150×200
50
24
960
2×0.75
650
2640×2110×1455
TQLZ180×200
70
35
960
2×1.1
860
2640×2410×1755
Horizontal Rotary Sieve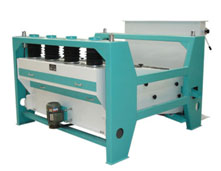 This machine can separate large impurities (such as stones, earth and straw) and smaller impurities (such as loose earth, sand and small seeds) from feedstock by means of planar motion within the sieve box. It is effectively sealed so as not to pollute the air.

Advantages:
Two part rotary and vibration motion. Suitable for various materials with differing characteristics, from wheat to oilseeds. It includes an automatic cleaning system. Completely separates impurities with three layers of sifters and an aspiration system.
| | | | | | |
| --- | --- | --- | --- | --- | --- |
| Model | Capacity(t/h) | Power(kw) | Weight(kg) | Screen Size(mm) | Packing volume(mm) |
| TQLM80 | 4-8 | 1.1 | 736 | 150×80 | 1965×1265×1645 |
| TQLM100 | 6-8 | 1.1 | 800 | 150×100 | 1965×1465×1645 |
| TQLM125 | 8-10 | 1.1 | 856 | 150×125 | 1965×1715×1645 |
| TQLM160 | 12-15 | 1.1 | 980 | 150×160 | 1965×1965×1645 |
1. 4-72 NO.4.5 Low Pressure Centrifugal Ventilator.

Features: It is paired up with the TQSF63 Gravity Grading Stoner. Aspirates in order to separate the materials pneumatically. It has the following characteristics: sufficient blow rate; sturdy fan stand; balanced blades and low noise.
Power: 5.5 kW
Quantity: 1 set

2. GFY5 Rotary Seal
Features: Discharges the material in the pneumatic conveying system. Reliable air-seals; easy and smooth material displacement.
Volume: 5 L; Power: 0.25 kW; Quantity: 2 sets
Anytime you can email or call us directly when you feel interest in our seed cleaning equipment. We are always ready to give you the best service!