about us
AGICO GROUP was established in 1990 ,nowadays we become an integrative enterprise group which have four wholly-owned and holding subsidary companies, KMEC, GEMCO , ASSC and GICONET. They make us more professional !

GROUP MISSION: To establish a century-standing enterprise and to build a well-known brand
GROUP VISION: To become a world-leading provider of bio-energy technology and products

Supported by manufacture, propelled by R&D, based on sales, assisted by oversea marketing network, the AGICO group is striving to become a world-leading provider of bio-energy technology and products.

Clients oriented service philosophy; both intensive and diversified strategies implemented; to rapidly extend the oversea market of grain and oil processing machinery engineering; to energetically develop import and export channels of products of grains, oil, steel and electronic consumables; the AGICO group is aiming for a modern enterprise with excellent clients' service worldwide.

GROUP Principles: Centralized control, manufacturing oriented, trade focused, and brand recognition

GROUP Motto: Honesty and efficiency; practical and innovative; teamwork and ambition; creativeness and excellence.

AGICO GROUP
Anyang General International Co., Ltd. deals principally in importing and exporting various small single mechanical products and engaging in external economic and technical cooperation, AGICO is an appointed and professional enterprise who devoted itself to researching, developing and manufacturing small pellet mill, oil press machine and peanut processing equipments.
Henan Kingman M&E Complete Plant Co.,Ltd (KMEC) is an engineering company specialized in designing, manufacturing, engineering, installation and commissioning of the turn-key project in oil mill, flour mill and feed mill. We have a deep commitment to our customers. We believe in quality information and quality technology design, just as you believe in the quality of your products. And we are immensely proud of our unique technology --- KMEC technology has been installed kinds of projects for industries

customize

. Want some projects we had done, welcome to email to us: info@gcmachines.com
Anyang Gemco Energy Machinery Co., Ltd (GEMCO) is dedicated in biomass energy fuel technology and products. We have the most professional engineer to leading information sources for the global biomass energy fuel industries; Biomass energy fuel reflects a passion for renewable and biofuel about new technology. Our objective is to be a respected provider of information about biomass energy fuel technology in the widest sense.
Anyang Best Complete Machinery Engineering Co., Ltd. In 2014, GEMCO (Anyang GMECO Energy Machinery Co., Ltd) and KMEC (Henan Kingman M&E Complete Plant Co., Ltd) are joined-ventured as ABC Machinery (Anyang Best Complete Machinery Engineering Co., Ltd), whose core business is to delivery technology, engineering and services over the world within the field of machinery of biomass densification, grain processing (edible oil and grain milling). Previous advantages from GEMCO and KMEC are inherited, reinforced and developed by ABC Machinery, assisting by powerful technology support, state-of-the-art manufacturing facilities, sophisticated processing craft as well as scientific testing method, so that not only does the quality and timing delivery guaranteed, but also totally-optimized technological solution as per your demands are available. GEMCO and KMEC are now two brands.
Henan Anson Steel Co., Ltd(ANSON), is an important exporter of steel pipes and ship plates in China.want more infomation you can click our

specialized

websites



Anyang Gico Enterprise Planning Co., Ltd (GICONET) mainly providing enterprise planning, and B2B promotion for Chinese enterprises.
Why Choose Us?
AGICO GROUP is the one stop shop for all your projects needs:
We believe in long-term relationship, that customer delights can be achieved only through begin focused on what you know best.
We are always up-to-date with new developments in the industry.
A huge data-base of active resumes in each industry.
Best candidate match is achieved quickly due to the vast business experience and technical expertise of our consultant team. We also have periodic training to re- skill our team.
A dedicated highly qualified team understands the issues in the industry, the current economics guiding the changing trends. This know-how assists us in discussing career paths and selecting suitable candidates.
We ensure consistent quality, quick turnaround time and delivery of the selected candidate after an offer has been made.
Our culture, which imbibes values, integrity and loyalty towards our customers.
Our products feature high quality, excellent performance and sophisticated technical design. We offer our clients efficient and considerate service across the world. With Competitive Price and Timely Delivery, we hope sincerely to become your Chinese supplier and partner in the mechanical project
We respond to all customers' inquiries, questions and requirements promptly. We offer our clients with customized turnkey solutions from evaluation, design, project management, process engineering to procurement local manufacturing, installation, and commissioning, after sales service, financing. By studying every details and selecting ideal plan of the projects, we ensure you get the best equipment and service.
We are a highly qualified team: our employees have wide experience in this business and therefore understand our clients' real needs, being able to generate solutions to fully satisfy them.
We are proactive and we offer only products complying with top standards of quality and warranty.
Our passion is Client Service: We work to exceed our clients' expectations with superior after sale service. We are focused on projects: This allows us to be specialists, to be always aware of the latest innovations and offer the best solutions. Moreover, both industries are complementing each other and we are able to supply combined solutions, providing an integral service for our clients.
We achieve economies of scale: Our wide client portfolio allows us to minimize production costs. This and our experience in the market allows us to offer the best commercial conditions for our clients.
We have very attractive prices. Contact us for further information and you will be surprised of the significant savings that your company can achieve by working with us.
Quality Certification
AGICO GROUP is an ISO 9001 approved, CE certified company providing complete project management services to product industries. We are committed to providing cost effective and energy efficient plants and machinery which conform to the international quality standards. Therefore, we apply stringent quality tests at each and every stage of production.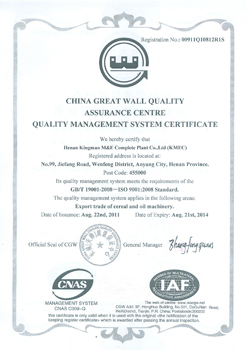 ISO 9001-2008 Certisfication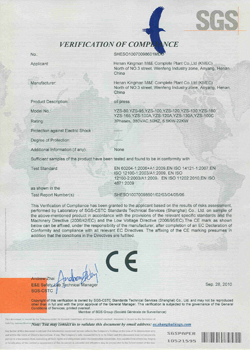 CE Certisfication