feed pellet line
Feed pellet line has developed for a long history and will keep developing in the future. It is a special industry because it is a reasonable and useful solution to the problem of uneven distribution of nutrients. Along with constant improvement, the feed mill industry now can produce feed pellets as you need automatically now.
Feed pellet line process: Silos for raw materials storage, Raw materials receiving system, First batching system, Mixing system, Second batching, Crushing system, Pelletizing system, Cooling system, Bagging system.
Flow Chart of Animal Feed Pellet Line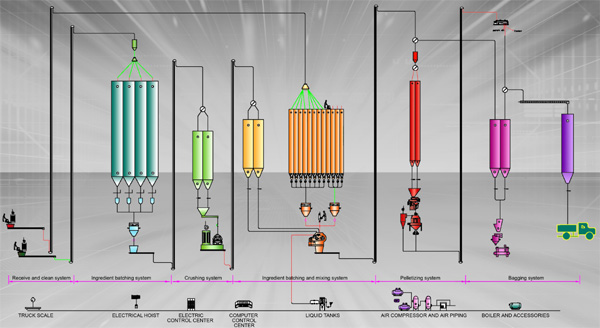 In our feed pelletizing solutions, we wll provide the total projects planning including civil engineering, steel construction, storage system, feed pelletizing machine, automatic packing, automatic PLC control system. KMEC has much more experiences on feedstuff pellet mill plant. So KMEC is a very reliable manufacturer and supplier of animal feed pellet plant. In addition, we supply different capacity animall feed pellet lines depending on customers different needs. Our planning team will design a perfect turnkey project for you about feedstuff pellet mill plant.
Advantages of Feedstuff Pellets:

★Decreased ingredient segregation and feed wastage.
★It is easy to store and transport
★The feedstuff pellets improves palatability for animals.
★Reduced selective feeding
★Destruction of pathogenic organisms

Feed Production Processing




Raw Materials for Animal Feed Pellet Line
A wide range of raw materials like corn, wheat bran, paddy, soybean meal, paddy rice, sorghum etc..
Related Equipments for Animal Feed Pellet Line
| | |
| --- | --- |
| | The hammer mill is an important equipment for the raw material grinding process. The hammer mill can grind the raw materials ingredients into the required size. It is suitable for small or medium sized feedstuff pellet mill plant. While if you manage a large scale feedstuff pelletizing factory, the water drop hammer mill is an ideal choice. |
| | |
| --- | --- |
| | Mixing is one of necessary processing in animal feed pellet line. Proper mixing will lead to increase diet uniformity and improve the feedstuff quality. We will provide two kinds of high efficiency feed mixers: twin shaft mixer for particle materials and screw belt mixer for powdered materials. Both of them are equipped with atomizing spraying system to add needed liquids which can improve feed pellets quality. |
| | |
| --- | --- |
| | Feed pelletizing machine is the key feed equipment for the animal feed pellet line. The feed pelletizing machine is the ring die design which is broadly used to large capacity feed pellets production. If you have another questions about feed pellets production requirements like capacity or scale, please send e-mail to us for more support and guidance. |
| | |
| --- | --- |
| | Getting out of the feed pelletizing machine, the feed pellets with high temperature and large moist need cooling by counterflow cooler. The these feed pellets can be crushed, screened or packed. Through the cooler, the feed pellets are decreased the temperature and moisture for next processing. |
| | |
| --- | --- |
| | Because different animal such as poultry, cattle and pig feed pellets are with different sizes. Some big feed pellets should be crushed into small particles. The feed pellet crumbler is the right equipment for the feed pellets crushing. The double roll feed pellet crumbler is suitable for crushing animal feeds like poultry, pig and cattle feed etc.. |
| | |
| --- | --- |
| | By feed pellet crumbler, there may be some powder in the pellet feed. The rotary grading sieve is used to screen and grade the feed pellets. After this processing, you can get qualified feedstuff pellets without powder. |
| | |
| --- | --- |
| | In order to pack for storing, transporting and selling, automatic packing machine can weigh and pack the feedstuff pellets automatically with high accuracy. |
There are many advantages of feed pellet line.
1. When pelletizing, starches contained in feed ingredients will gelatinize under the joint efforts of moisture, heat and pressure. This combines the feed material compactly and improves the pellet quality.
2. The pellet form of feed efficiently avoids animals picking at feed for favored ingredients. So that animal must have feed with balanced nutrition. Besides, the situation of waste to feed is reduced and the feed conversion is also realized.
3. The material of feed will get ripe during pelletizing. This gives feed a better tasty and digestibility that will accelerate animal growing faster and healthier. The ripe material also prevents animals infecting some disease.
4. Processing feed to pellets can make the storage and transportation conveniently. Pellets can be sealed to avoid damp and degeneration so that keep the nutrition well.
Do you want be a leading feed pellets manufacturer? Do you want to earn more money? Do you want to start the feed pellets business? Contact us as soon as possible, KMEC will help you achieve it!