feed pellet mill
SZLH feed pellet mill, adopted the special technology from Germeny Company Münch, is an original machine for feed pellets. This machine is equipped with high quality die and rollers. For driving system it uses double motor V-belt, which is of little space occupation, uniform stress, simple structure and easy operation.
Users can change motor and die to meet the needs of different production capacities and specs, thereby obtains ideal technology and economy effect.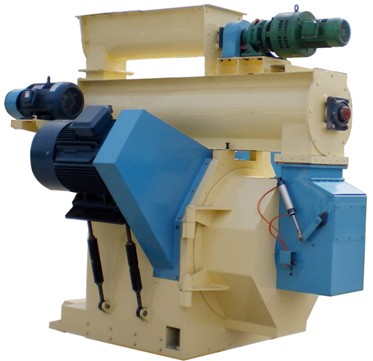 The machine is mainly composed of three main sections, namely feeder, conditioner and the main set of pellet mill. The main set of pellet mill is made of such components as machine body, machine shell, main shaft assembly, quill main shaft assembly, die, roller assembly, cutting knife assembly, main motor driving system etc.
This kind of feed pellet mill has 3 different types. And its capacity is 3-20t/h. Its power is 55-150kw. Moreover, it has high quality ring die, 1.5—10mm hole size, high quality bearing for central shaft, and steady belt/gear transmission.
Feed Pellet Mill Structure