feed pellet plant solution
feed pellet plant
supplier and manufacturers, which provide high quality feed pellet mill, feed pellet mill plant and complete feed pellet line. KMEC offer the clients with customized Turnkey Solutions, from Evaluation, Design, Project Management, Process Engineering to Procurement Local Manufacturing, Installation, Commissioning, After Sales Service, Financing. By studying every details and selecting ideal plan of the project, we ensure you get the best equipment and service.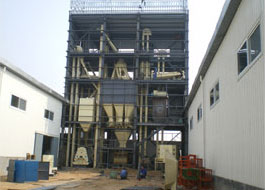 Our pellet mill for animal feed is widely used for pelletizing feed materials like soybeans, soybean meal, corn, fish meal, amino acid, fusel meal, additives, whey powder, oil, meat and bone meal, corn, sweet sorghum, etc. There are two types of pellet mills: ring die pellet mill and flat die pellet mill. Both of them work by the compressing between rollers and die. The flat die pellet mill is usually used for self use while the ring die pellet mill is used for business.
In the pelletizing process, there will be a great force to press material to little columned granule. The great force will also make temperature in the pelletizing room increase to more than 80 centigrade. This temperature will heat the raw material and kill bacterium that may cause dieses if animal have it.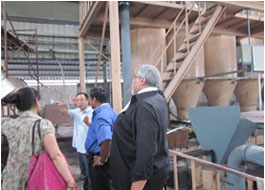 Our feed pellet plants installed abroad:
.G1 Solutions Inc.; CA, USA (90000 ton/year feed mill, KMPM42)
.L.T.D. Caucasus Agro International; Georgia (30000 ton/year feed mill, KMPM35)
.Alhassan Farms; Ghana (30000 ton/year poultry feed mill, KMPM35)
.Ngawi K.A.B.; East Jawa, Indonesia (50000 ton/year cattle feed mill)
.Hum Huat (Sarawak) Sdn. Bhd.; Malaysia (6 ton/year mash feed mill)
.Al-Taqua Co.; Egypt (30000 ton/year poultry feed mill)
.PT Jadi Mas; Indonesia (30000 ton/year compost pellet mill)
.Emman Farming Enterprises Limited; Zambia (90000 ton/year poultry feed mill)