fuel pellet mill
With the development of society, many people nowadays are looking for cheaper and clean alternative energy to reduce or even replace the use of traditional fuel like oil and gas, as they are less and unrecyclable. Biomass pellets have increased tremendously in popularity as a heating fuel in recent years, with many homeowners and commercial facilities choosing pellet stoves or boilers instead of traditional wood-fired equipment due to their relative ease of use. Moreover, biomass pellets are environmentally friendly and their ash after burning can be used as fertilizers. Therefore, the demand for fuel pellets has also grown quickly. As a result, fuel pellet mill is more and more popular.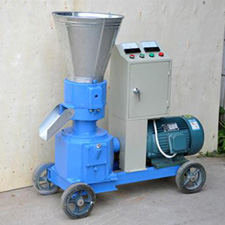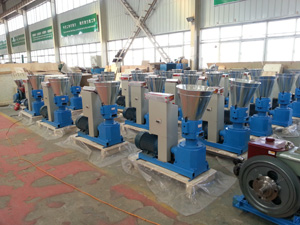 Fuel pellet mill makes pellets fuel from a variety of biomass materials, like: rice husks, wood shavings, sawdust, straw, small branches, grass, groundnut shell, and bagasse, etc. Fuel pellet mill is available at a variety of sizes and scales, which allows for everything from the smallest scale for home use to the largest commercial pants. Fuel pellet mill has two kinds: flat die fuel pellet mill and ring die type. The former is usually for small output capacity, especially home use; while the latter is for large scale in commercial use. Pellets as fuel has many advantages, primarily as follows: First and foremost, as said before, they are clean, green and renewable; second, they are easy and safe to transport and store; third, they have high density and can release lasting energy.
Features of GEMCO biomass fuel pellet mill:
It is an improved design to make solid biomass pellet as burning fuel in fireplace or pellet stove.
The final product pellet is smooth, dried, clean and good smelling.
Special material for the roller and template prolong the life span of the pellet mill.
Easy maintenance and perfect technical design with less labor
CE, BV, ISO certified, can meet European Union standard.
Various pellet diameter choices: 2.5, 4, 6, 8, 10mm, also can change different size die while using.
4 power sources: electric motor, diesel engine, PTO, gasoline engine
Here are the latest orders of our wood fuel pellet mill:
Bulgarian customer just ordered 1 set of ZLSP260B electric motor pellet mill;
Capacity: 160-250kg/h
Czechic customer just ordered 1 set of ZLSP300C with diesel engine;
Capacity: 250-400kg/h
Chilean regular customer just ordered 5 sets of ZLSP150A with electric motor;
Capacity: 50-100kg/h
etc.
If you are looking for fuel pellets, you can directly turn to us. We are a leading Chinese manufacturer and supplier, and we hold the expertise. Our
fuel pellet mill
is high-quality with competitive price, and they can be customized based on your specific requirements.