grain cleaning machine
Many grain cleaning machines are multi-functional and can clean various kinds of grains. They are widely used in medium and large scale of grain flour production to remove impurities like dust, earth lumps, stones, small sticks, sand and leaves, etc. The removal of such contaminants guarantees the final quality of the end products, by reducing ash content, specks, and factors influencing odor and flavor. Additionally, machine wear is reduced and their lifespan increased. Therefore, the application of grain cleaning machine is becoming wider and wider.
Maize Cleaning Process

Grain cleaning machine is also called grain cleaners. According to different raw materials, grain cleaning machines can be divided into maize cleaning machine, wheat cleaner, rice cleaning machine and others. Generally speaking, the common working principle of grain cleaning machine is based on the differences in the width, thickness and length of the grains, and in the aerodynamic properties, surface condition, shape, and specific weight.
Wheat Cleaning Process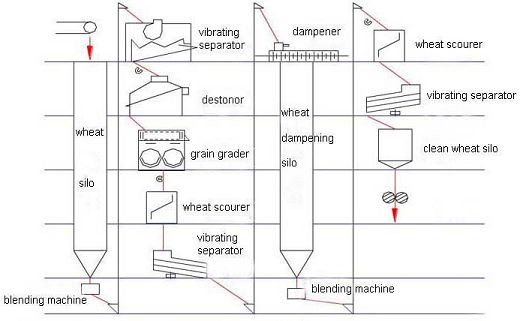 Our
grain cleaning machines
separate unwanted impurities from grains with the maximal precision on the basis of variable physical properties: size, magnetic response, equilibrium velocity, density, length, shape, firmness and color. Our grain cleaning machines adopt the latest international advanced technology and also have other advantages, like: compact structure, low power consumption, low noise, easy operation, convenient maintenance and long service life. All of them can be customized according to your specific requirements!