Niger Seed Oil Processing
The plant we commonly called niger is an erect, stout, branched annual herb. Its scientific name is Guizotia abyssinica, other common names include:
nyger
,
nyjer
, or
niger seed.
Niger is originated in the Ethiopian highlands, and nowadays it has spread to many countries including India, Mexico, Nepal, and other parts of Southeast Asia. Niger seeds look similar to sunflower seeds, but they are smaller in size and darker in color. It bears a fairly thick, adherent seed coat and can be stored for up to a year without deterioration. The plant is becoming popular around the world due to the rich nutritional value in its oil.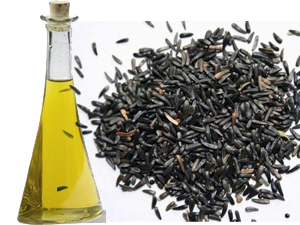 Niger Seed Oil Extraction Machine
The most convenient and economical way to extract oil from niger seed is using a niger seed oil extraction mill.
The oil extraction mill produced by us is easy to operate and repair. It can not only process niger seeds, but also many other vegetable plant seeds, for example, sunflower seeds, soybeans, sesame, safflower seed, etc.
Fetures of the Niger Seed Oil Extraction Machine
Cast iron machine base;
Gear reducer system;
Superior grade oil & cake;
Compact structure, stable function, simple maintenance.
Main parts through the processing of high-temperature tempering and low temperature quenching.
Specifications of the Niger Seed Oil Extraction Machine
| | | | | |
| --- | --- | --- | --- | --- |
| Model | Capacity | Power | Dimension | Weight |
| YZS-95 | 5T per 24Hours | 11KW | 1920*550*765mm | 480kg |
Niger seed oil storage
The presence of unsaturated fatty acids in niger oil will affect its shelf-life. The moisture content of the oil should be kept low to prevent degradation by molds and other pests. The recommended humidity is below eight percent.
Health benefits of Niger seed oil
The niger seed oil has many benefits to our health:
Niger essential oil boost cures skin conditions
The essential oil can be used in the management of various skin diseases. Niger oil can be employed in the management of various conditions such as scabies and eczema. The linoleic acid which is a constituent of the oil protects the skin from possible diseases.
The oil is full of body important nutrients
Niger seed oil is full of body essential nutrients such as niacin, ascorbic acid, and fibers among others. The various nutrients qualify the oil use in a wide range of applications.
Niger seed oil is full of nutrients
The human body needs various essential minerals to function properly. Niger seed oil is rich in the essential oils such as zinc, magnesium, potassium, and sodium which are vital for the proper functioning of the body.
The oil is a great adulterant
Niger seed oil can be used in combination with other oils. Oils from sesame and rapeseed can be adulterated using Niger seed oil without causing any degradation. The oil mixes with other oils to give a fantastic flavor.
Niger oil is good at maintaining normal cardiac health
Patients with heart problems can benefit from the use of the essential oil. Niger seed oil is an excellent replacement of olive oil. Patients suffering from heart diseases should use Niger seeds oil for processes such as cooking meals and even in preparing a salad.
Niger seed oil provides the body with a healthy weight gain
The oil's constituents such as fatty acids and protein are important for a liable weight gain. The essential is harmless to the body.

Niger Seeds Oil Properties and Uses
Niger seeds contain around 40 % oil and about 20 % protein. Niger oil has a fatty acid composition typical for other Compositae family oils, such as safflower and sunflower (16). Fortunately,oil produced by crops in the Compositae family is considered to be among the healthier selections. Niger seed oil contains linoleic acid as the primary fatty acid (75-80%), followed by palmitic and stearic acids (7-8%) and oleic acid (5-8%), although Indian Niger oil is reportedly higher in oleic acid (25%) and lower in linoleic acid (55%).
Described as having a "nutty taste and a pleasant odor", the edible oil is the main product from Niger seed in both Ethiopia and India. Various methods and equipment are used to press the oil, including"small cottage expellers and large oil mills." And besides cooking purposes, Niger oil is also used for "lighting, anointing, painting and cleaning of machinery." It can also substitute for sesame oil for pharmaceutical purposes and can be used for soap-making.