pelletizing line
Product Introduction and Application
The small moveable pellet production line through our R&D is manufactured for professional pelletization. Main equipments within it include pulverizer, cyclone separator, silo, feeder, pellet mill, vibrating screen, bag type dust collector, foundation frame and electric cabinet. It can not only pelletize sawdust, stalks and straw, but also process forage and fodder for animals. The raw materials also feedstock, cover sawdust, twigs, straw, rice husks, and peanut shells etc.
Look the video, you can get more information about pelletizing line.
GPM-300R Small Mobile Pelletizing System:
based on a pellet plant without a drying or packing system
The range of diameter of pellets:
6-12mm, with pellet density of 1.1-1.3t/m³ and moisture content of ≤8%.
Overall size (L*W*H):
3720X2080X2080mm;
Total installed capacity:
40.65KW
Process flow:
Pulverizer-----Cyclone Separator-----Surge Bin----Screw-----Elevator----Feeder----ZLSP300B Pellet Mill-----Vibrating Screen-----Finished Products
↓→Bag Type Dust Collector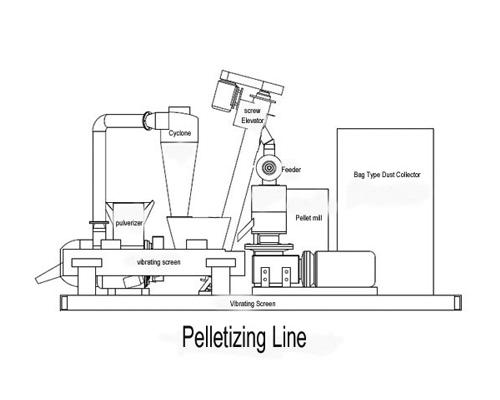 Direction for Use of Main Equipments
1. Pulverizer
The complete plant adopts hammer mill, herewith, for the pulverizing section, the output of which is due chiefly to the size and moisture content of the feedstock and mesh size.
Main technical parameters:
| | |
| --- | --- |
| Model | TFS-420 |
| Power(kw) | 7.5 |
| Yield(kg/h) | 550-700 |
| Qty of the hammer blades | 16 |
| Weight(kg) | 280 |
| Packing size(mm) | 1090*820*1100 |
| Other references | Capable of pulverizing lumber with the diameter less than 30mm |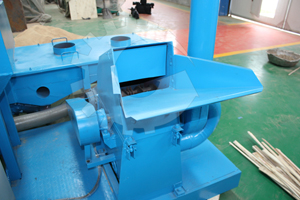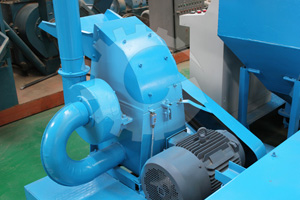 Safe operating instructions:
Please get to know and grasp its operating principles and functions comprehensively prior to starting up the motor.
Dismount the shield cover and inspect and keep the machine away from rotor damaging, steel mesh loosing and iron scraps mingling. After inspection, please put on the cover back and tighten it.
Put the feedstock in when the machine is running normally, with the charging as much even and stable as possible.
No foreign matters, such as metal scraps, gravel or any other oversize blocks falling in.
Please pay more attention to rotating speed, noise and bearing temperature of the motor. Any abnormal conditions and troubles shall be solved timely and properly.
The operators shall wear safety helmet, dust mask and make the sleeve cuffs bound tightly.
2. Surge bin
The bin is for feedstock storage. Here are two ways of putting the feedstock into the bin. On the one hand, thanks to air flow, the pulverized material will fall into the bin via cyclone separator; on the other, feedstock in qualified sizes can be added in straightforward from the bin inlet.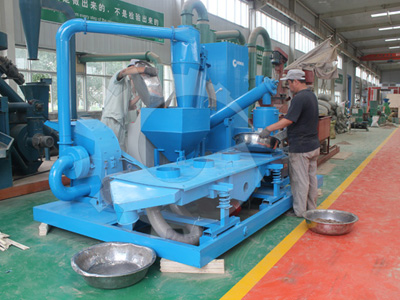 3. Screw elevator
The screw elevator, also known as screw conveyer hereby, is used to convey materials driven directly by the motor. Before startup, please check up and ensure the rotating direction of the vanes is as same as that of the arrow. The elevator adopts independent frequency converter for adjusting discharging volume of material. Technically, the frequency shall be set at a relatively low value and then more material can be added increasingly.
Operation and maintenance of the elevator shall be abided by as follows:
Beware of foreign matters and impurities being mixed into the feedstock.
Regular inspection upon the machine shall be conducted lest part loosing happens to it.
The feeding speed shall be handled properly for sufficient material supply on one hand and in case of build-ups of feedstock inside the bin box on the other hand even resulting in abnormal running.
The TRBs (tapered roller bearings) on each end shall be lubricated every four working hours.
Keep an eye on the sealing packing, the bolts of which shall be tightened for efficient tightness. If it cannot be further adjusted, please change the sealing packing with a whole new one.
The reduction gearbox shall be checked upon the oil level per month, with the oil taking up one third of the gearbox. If not, please add it up.
4. Feeder
The feeder, more like shape and structure of the screw conveyer aforementioned, is for putting feed into the pellet mill continuously. The reduction gearbox on the feeder shall be checked upon the oil level per month, with the oil taking up one third of the gearbox. If not, please add it up.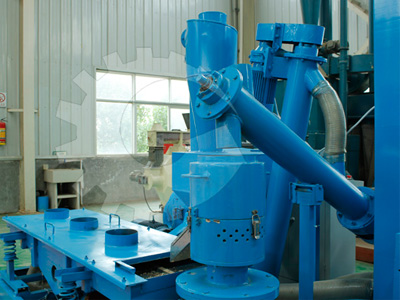 5. ZLSP-300B (R-TYPE) Pellet Mill
The ZLSP series of pellet mills are professionally designed to process biomass raw materials via technological innovation. The sphere of raw materials covers sawdust, straw, rice husks, bamboo shavings, peanut shells, bagasse, alfalfa and so forth.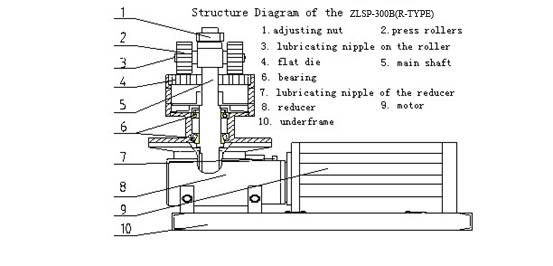 Performance features
Thanks to the case-hardening and carburizing treatment as well as grinding and fine processing, the gear within the pellet mill gearbox made of superior alloy steel features stable transmission, low noise, high bearing capacity, steady temperature and a long life.
The main shaft is equipped with TRBs for enduring heavy axial forces and prolonging service life.
The application of longer diameter press rollers can help to achieve higher yield characterized with better pelletizing rate as well as even pellet quality and hardness.
Both rollers and the die have been processed under anti-resistant treatment. Specifically, the flat die can be efficiently used double face for a longer life span.
Applying seal structure to all bearings can efficaciously prevent dust and ash from falling in and extend life of bearings.
The optional pellet diameters include from 6mm to 12mm.
Technical parameter of pellet mill
Model
Power
Capacity
Weight(NW/GW
Packing Size
ZLSP200B
7.5KW (3phase)
80-120 kg/h
215/245kg
950*450*1050mm
170-270 lbs/h
475/540lbs
37*18*41 inch
ZLSP300B
22KW (3phase)
250-350 kg/h
540/575kg
1350*750*1400mm
550-770 lbs/h
1190/1268lbs
53*30*55 inch
ZLSP400B
30KW (3phase)
350-450 kg/h
770/810kg
1400*800*1450mm
770-990 lbs/h
1698/1785lbs
55*31*57 inch
6. Vibrating screen
As a sifter, the vibrating screen also can help to cool pellets down at the same time. The pellet crumb and scraps collected under the wire mesh shall be cleaned away timely. Simultaneously, qualified pellets will be discharged at the rear outlet. During the operation, the sifter works stably. What's more, vibrating frequency can be converted. However, the rotating directions of the two motors shall keep opposite.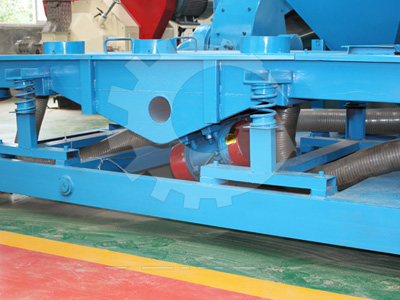 7. Bag type dust collector
It's mainly for collecting powdery material and dust. Thanks to the collector equipped with an induced fan, the ash content of the exhausted air will remarkably reduced on one hand, and on the other, not only can pellets be cooled in the meantime, but the working environment can be kept as much clean as possible.
The fan possessing power of 3 KW and air volume of 2664-5268m³/h can suck powdery crumb and dust into the collector and filter them which will then be exhausted out to the open air. The whole set of bags can vibrate automatically and the shaking time and interval can be preset by simply adjusting the time relay. But crumb and dust will be piled up on the drawer of the collector. Please dump them timely or put them back to use into the surge bin.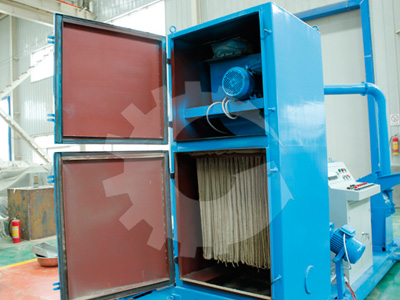 Principles Of Electronic Control And Methods Of Operation
This complete set adopts advanced and reliable electric control system. Specifically, if the AT/MT change-over switch is set at MT, each machine should be handled stand-alone.
The green indicator light is on when the machine get started, otherwise, the red on. If the change-over switch is set at, after the green button is pressed, all machines hereby will be booted up in such sequence as: bag type dust collector---pellet mill---hammer mill---vibrating screen---feeder---screw elevator. When the red button is pressed, they will all be stopped in a time-lapse way in such order as: hammer mill---screw elevator---feeder---vibrating screen---pellet mill---bag type dust collector
On the manual occasion, all machines should be started up as the following steps: bag type dust collector---pellet mill---hammer mill---vibrating screen---feeder---screw elevator, but please adjust the booting interval properly as required.
Over many years' practical experience, GEMCO's products have been famous to the world especially wood pellet machine. Now the mobile small pellet complete set is our new products adopted advanced technology. We are confident that clients will be satisfied with our mobile small pellet complete plant with high quality, high efficiency and competitive price. So if consumers are looking for wood pellet production line, our products are your first choice. Please send e-mail us to get more information.