pto pellet mill
PTO pellet mill, also named PTO pellet press, PTO pellets making machine, is a kind of special designed granulator for farm-used end customer. It is flat-die designed. PTO pellets making machine is usually combined with a heavy duty worm gearbox or a tractor or truck, using the power to operate the pellet mill. Power Take-Off (PTO) is used as the driving force. It is specially designed to be easily connected and disconnected. Obviously, PTO pellet press is suitable for farmers to make their own biomass pellets or feed pellets on farm since tractor is widely used there.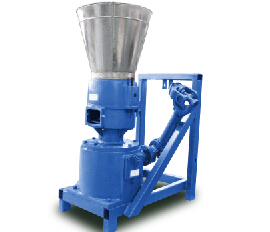 Advantages of PTO Pellet Mill
PTO pellet mill has many advantages, such as: flexible and integrated installation, easy operation, little maintenance, low noise, low power consumption, high efficiency and long service life.
Raw Material to Make Pellets
The raw materials of biomass pellets made by PTO pellet mill has a wide variety: straw, rice husks, wood chips, wood shavings, sawdust, peanut shell, bagasse, alfalfa, cotton stalk, and forest waste, etc.
While the raw materials of feed pellets are commonly: corn, maize flour, soybeans, soybean meal, fish meal, animal acid, whey power, meat and bone meal, additives, and sweet sorghum, etc.