purifier
Purifier is widely applied in modern flour mills for high quality flour as well as successfully used for semolina flour in durum flour mills.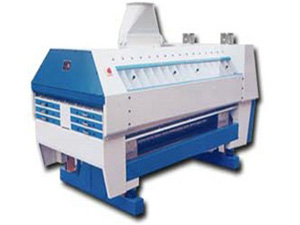 This machine is designed for separating pure endosperm granular from the grains. It comprises two independent sieve-decks, each with three ranges of double superimposed sieves. The two sieve-decks are based on four rubber spring shrubbery on the steel frame and vibrated by two vibration motor which installed in the finish from the machine. Independent aspiration is connected on top of the device. The mix flows into sieve decks and it is indexed by the interaction of vibration and suction although it's flowing towards the finish from the machine. The types of materials then are separated to pure endosperm semolina, endosperm with barn fraction, pure bran fraction after which are delivered to different next passage.

Purifier Systems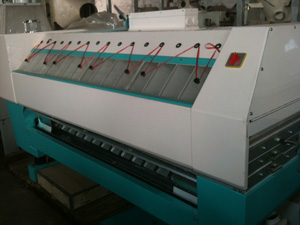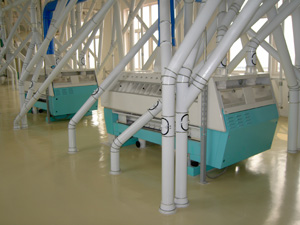 Some Merits of Purifier
● Advanced design and excellent fabricating.
● Sieve size: 490mmx490mm, 590mmx590mm
● Aluminum inlets, conveying and collecting trough for durable working.
● Imported rubber spring bushes, reliable.
● Imported SEFAR cloth.
● High quality vibration motor
Technical Parameters of Purifier
Model
Vibrating Motor (10 grade) Power(kW)
Amplitude(mm)
Air Quality(m3/min)
Capacity(t/h)
Width(mm)
Weight(kg)
FQFDZ75×2×3
FQFDZ75×2×3A
4×0.25
4.0~5.0
60~80
3.7~5.6
730×2
1420
FQFDZ50×2×3
4×0.18
4.0~5.0
40~50
2.4~3.8
492×2
1200
FQFD50×2×3A
2×0.5
4.0~5.0
40~50
2.4~3.8
492×2
1200
FQFD50×2×3B
2×0.18
4.0~5.0
40~70
0.4~2.8
492×2
1000