sawdust pellet machine
As we all know, the above biomass raw materials are neither energy lasting nor convenient to transport or store. However, sawdust pellets, which have high density, can release more energy. These pellets are cleaner and safer compared with other fuels, and they are not only widely used for heating in winter, but also for cooking at home. You can find them in kitchens, fireplaces, animal bedding and wood stoves. Besides, they reduce environmental pollution caused by coal, heavy oil and natural gas, and they are the main fuel of industrial boiler.
Technical Data of the Electric Motor: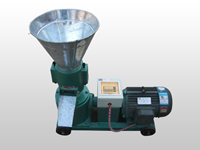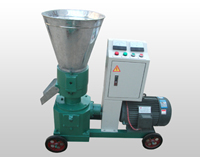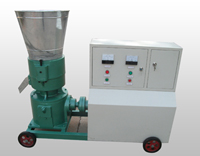 | | | | | |
| --- | --- | --- | --- | --- |
| Model | Power(kW) | Output (kg/h) | Measurements (mm) | N.W/G.W (kg) |
| ZLSP150B D-Type | 4 | 50-90 | 750*350*650 | 90/120 |
| ZLSP200B D-Type | 7.5 | 80-120 | 1000*430*950 | 200/230 |
| ZLSP230B D-Type | 11 | 150-300 | 1140*470*970 | 290/320 |
| ZLSP260B D-Type | 15 | 300-450 | 1200*500*1070 | 330/360 |
| ZLSP300B D-Type | 22 | 400-600 | 1220*600*1000 | 410/450 |
Generally speaking, sawdust pellet mills usually refer to the flat die type. The sawdust flat die pellet mill is suitable for home use mainly because its capacity is smaller. When in operation, the die does not move, but the roller rotates. Sawdust flat die pellet mills usually have four kinds of driving force: electric motor, diesel engine, gasoline engine, and tractor for your own choice. You should note the following when comparing between different brands of sawdust pellet making machines. When in operation, the machine should meet these four points:
Fewer mechanical failures
Lower power consumption and lower noise
Protecting the shapes of sawdust pellets
Smooth surface and proper density of the finished sawdust pellets
Our sawdust pellet machines do meet all the points above. In fact, there are no better pellet mills in the market. GEMCO is a leading Chinese manufacturer and supplier of sawdust pellet mills, and 80% of its products have been exported. It's no wonder that you find GEMCO sawdust pellet making machines in your own city, and probably in the house of your neighbor or friend. GEMCO offers free and experienced technical instruction, satisfactory after sales service, together with high quality pellet mills.
You can rest assured on GEMCO sawdust pellet mill. Now it's your turn to buy one and have a try!