sawdust pellet maker
Sawdust pellet maker, also known as sawdust pellet mill, makes pellets from various biomass materials, such as: sawdust, bamboo sawdust, rice husks, straw, groundnut shell, bagasse and alfalfa, etc. The demand of sawdust pellets is expanding, mainly because sawdust pellets have more obvious advantages, like: high density, lasting energy, easy transportation and convenient storage. Consequently, making sawdust pellets becomes more and more profitable, and sawdust pellet maker is more and more popular.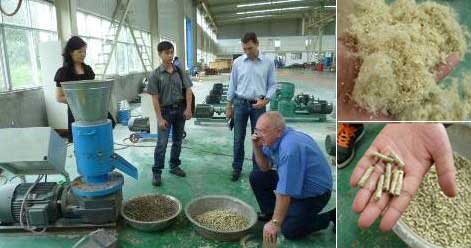 To make sawdust pellets with sawdust pellet maker, you need to shatter the biomass materials into powder and make their moisture content proper in advance. Then put the powder into the feeder of the sawdust pellet mill, and they will fall into the pressing barrel. As the die rotates, a series of rollers press the powder into pellets through the holes in the die. Under high pressure and strong frication, the temperature in the pressing barrel rises, thus making the powder gelatinization and pass through the holes more easily. Then, the knife on the other side of the die will cut the pellets into the same set length once they are exposed. At last, the swing tray throws the finished pellets out of the sawdust pellet maker.
Our sawdust pellet maker is characterized by high output capacity, low power consumption, easy operation and maintenance, low noise, and long service life. Our customers are quite satisfactory with our sawdust pellet mills and our service. You can also count on us and our sawdust pellet maker!