screw oil pressing machine
The screw oil pressing machine YZS-120 is our newly designed model. It has simple design, compact structure, high efficiency, stable performance, high oil output rate, low power consumption and long service life. Moreover, it is suitable for both hot pressing and cold pressing. It can process a wide variety of oilseeds, like: palm fruit, palm kernel, coconut, peanut, cashew, avocado, tiger nut, rapeseed, peanut kernel and sesame, etc.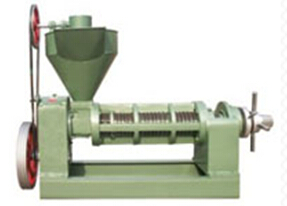 Technical Data of Screw Oil Pressing Machine YZS-120
| | | | |
| --- | --- | --- | --- |
| Capacity(Ton Per Day) | Power | Weight(kg) | Dimension(mm) |
| 6 TPD | 15KW(3-phase,1440rpm) | 680 | 1970*700*780 |
Technical Data of Different Oilseeds
Raw Material
Capacity (kg/hr)
Output Rate(%)
Cake Residual (%)
Rape seeds
Hot pressing
7000-8000
30-38
7.5-8
Cold pressing
2400-3000
28-35
Peanut
Hot pressing
5000-7000
35-45
7
Cold pressing
2000-3000
32-40
Bean
Hot pressing
6000-7000
10-16
6.5-7
Cold pressing
2500-3500
8-14
Sesame
Hot pressing
7000-8000
44-47
6.5-7.5
Cotton seeds
Cold pressing
3000-3500
10-14
5.5-6.5
The feeder of this screw oil pressing machine is not just simple reversed fastigiated container, which can let the materials let down itself, but also with a screw device and a stirring rod in the middle of the machine. After turning on the oil press and putting the materials in the feeder, the screw device will turn round to help feed the materials go down to the chamber of the oil press smoothly and effectively. With this device, it avoids the blocking in the feed inlet of the feeder. And the stirring rod also has certain effect on mixing the materials before pressing oil.