small oil machine
In recent years, frequent incidents of illegal cooking oil have upset people terribly. People care more about cooking oil's security. On the other hand, famous brands of cooking oil are expensive for ordinary people. It really means too much for them to eat these cooking oil every day. People need high quality and health more than brands of cooking oil.
As we all know, good edible oil comes from healthy and high quality raw materials. To solve cooking oil problems, you can buy our small oil machine, make healthy edible oil, and make money!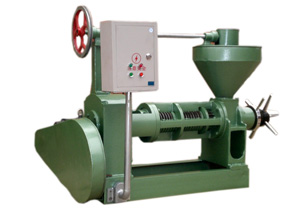 Our
small oil machine
needs small space and only one or two person to handle. It's very easy and convenient to operate, clean, and maintain. You can put the prepared high quality raw materials, such as: peanut, sesame, rapeseed, and bean, beside the small oil making machine. Your customers can check these raw materials' quality in person and decide the kind of cooking oil they want. What's more, you can make on-site cooking oil process transparent to your customers. Thus, people can rest assured on your healthy and fresh cooking oil. Besides, you can simplify the complicated packaging process, and your customers only need to pay the cost of raw materials and processing. Therefore, your oil's price is certainly going to be competitive. In turn, your cooking oil is more and more popular. And as time goes by, your cooking oil business increasingly expands.
Our small oil making machine enjoys features of low noise and low power consumption, and high oil output capacity. When the small oil making machine is in operation, raw materials are carried through the pressing barrel by a helical screw, and the machine uses friction and continuous pressure from the screw drives to move and compress the raw material. The oil seeps through small holes that the residue of raw materials cannot pass through. Then the fresh and original cooking oil is ready.
Our
small oil machine
can bring you much more benefits beyond your expectation. Your inquiry is expected and appreciated!