waste paper pellet mill
With a comparable price and the ability to be handled just like coal, as well as resistance to weather-related degradation, paper pellet biomass fuel is becoming the choice of more and more people.
In fact, the process for pelletizing paper is much the same as that for pelletizing wood and other biomass materials. The fundamental difference between wood and waste paper pelletizing is the fact that wood pellets generally are made with a more homogenous feedstock selection, while paper pellets are dealing with a lot of material that has extreme swings in density. However, waste paper pellets occur little amount of degradation, and usually can hold up pretty well.
Pellets Making With Waste Paper Pellet Mill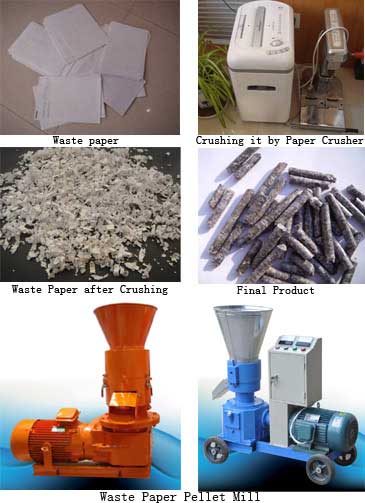 1. Collect the paper to make into pellets. Use recycled paper such as newspaper, pizza boxes, junk mail and carboard, etc. Tear the recycled paper into pieces small enough to fit into the hopper of your hammer mill.
2. Place a box under the chute of the hammer mill. Turn on the hammer mill, and slowly feed the paper pieces into the hopper. Shredded paper will fall into the box under the chute.
3. Place a bucket below the chute of the waste paper pellet mill. Turn on the pellet making machine, and slowly feed the shredded paper into the hopper. In a few seconds, waste paper pellets will begin to come out of the chute and fall into the bucket.
4. Continue the process until all the shredded paper is gone. Repeat this procedure periodically to use all your recycled paper.