wood pellet plants
Professional Wood Pellet Mill & Complete Wood Pellet Plants Manufacturer

AGICO is one of the wholly-owned and holding subsidiary companies belong to AGICO group. The wood pellet machines we offer feature high quality, excellent performance, sophisticated technical design, and, of course, affordable price. For 20 years we have accumulated experience and knowledge in producing pellet press and now we master every part of the pelleting process of the wood pellet plant. If you are looking to purchase a pellet mill/plant, GEMCO is the one-stop shop for all your projects needs. Also, We offer our clients customized turnkey solutions about evaluation, design, project management, process engineering, procurement local manufacturing, installation, commissioning, after sales service, and financing. If you have any questions about wood pellet mills and plants, we are here to help.
Wood Pellets on an Expanding Global Need
As the cost of traditional fuels keeps going up, wood pellets become a promising new type of energy, some people even call these pellets as The Energy Boom You Haven't Heard About. To a large extent, replacing coal with wood pellets as a means of producing heat and electricity has been seen as a move that comparatively clean and climate-friendly. Over the past decade, the pellet heating market has grown very fast in the US and Europe and this kind of expand is expected to continue in the following years. It's a good time to be in the wood pellet business. In the face of benefits, why still waiting? If you are intend to join the game, you may want to know the whole process of Wood Pellets producing and get your own wood pellet plants. Contact us, you'll find answers immediately.


The Pellet Mills and Plants We Offer
The Wood pellet Mills and Plants manufactured by us cover a wide range of target production: from 0.5 ton/hour to 12 ton/hour. Therefore we recommend you to consider different kinds of productions combined with your own actual situation.
Flat die pellet mill and Ring die pellet mill
Our flat die wood pellet mill is classified into 2 types: D-type and R-type. D-type wood pellet mill is suitable for pressing softwood and other soft crop wastes while R-type pellet mill is more suitable for making hardwood pellets, since it can generate more pressure to the raw material.
All these flat die pellet mills have 4 power sources for you to choose: electric motor, diesel engine, PTO (tractor driven), and gasoline engine.
Ring die wood pellet mill can produce 500-2500kg/h. (May vary according to the characteristic of raw material.) This kind of wood pellet mill is the key part in industrial wood pellet plant. Our ring die pellet mill have gained 10 national patents and it may be the most cost-effective wood pellet mill in the world.

The complete wood pellet plant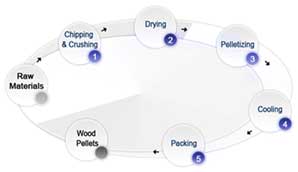 Our productions suit for both small scale for farm and workshop and large scale for commercial pelleting factories.we offer you not only wood pellet making machine, but also other auxiliary equipment used in the pelleting process from Chipping & Crushing to Packing which includes hammer mill, crusher, hot stove, rotary dryer, cooler, separator, packing machine etc.
The capacity of our wood pellet plant for sale ranging from 200kg to 20 tons per hour. Until now, We have built successful projects with countries all over the world like Vietnam, UK, Serbia, Morocco, Malaysia, Italy, Israel, Ghana, Chile and Australia etc.


If you are planning to set up a complete wood pellet plant, We are your BEST choice. With competitive price and timely delivery, we hope sincerely to become your Chinese supplier and partner in the mechanical project.